Forex Course – How to Draw a Trendline Correctly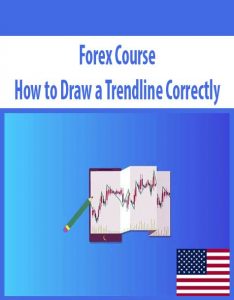 Forex Course – How to Draw a Trendline Correctly
Recognize False Breakout, True Rebounds and Continuations of the Trend. Supports/Resistances and Japanese Patterns.
Learn more precisely Where the Prices can Rebound into a trend, Avoid False Breakouts, use Trend-Following Strategies with more success and Better Identify Technical Analysis Shapes.
The Right Positioning of a Trendline can Help You to:
Anticipate where the prices can rebound in order to enter in favour of a trend
Develop true strategies in favour of a trend
Understand when a trend is ending and shapes of reverse and continuation technical analysis could create
Increase the performances of your trading strategies
I'll teach you the main principles which I use to identify rebounds on the trendlines and false breakouts. Then we can practice through exercises and analysis to learn which is the better way to draw a trendline. You will learn to recognize false breakouts of supports, resistances and trendline thanks to the patterns of the Japanese candlestick.
From 4 years ago I live off trading and from 2 years ago I live off my income in the Canary Islands. Any strategy or technical analysis with reverse or continuation shape which I use, is based on a good drawing of the trendline. This is why this course is free.
NOTE. To follow the course it is important to have installed a trading platform and to know the basics about trends and Japanese candles.
I didn't teach you a trading strategy, the course involves a general training.
NB.
The video translation and the voice is of a professional voiceover Deya Aliaga Kuhnle
How to Draw a Trendline Correctly: Videos, PDF´s, Template
---
---
Visit more course: BOND – STOCK TRADING
 Some  BOND – STOCK  course: Djellala – Training by Ebooks (PDF Files), Also StratagemTrade – Rolling Thunder: The Ultimate Hedging Technique.  Also  Tom K. eloyd – Successful Stock Signals for Traders and Portfolio Managers: Integrating. Also  Daniel T.Ferrera Llewelyn James Martin Armstrong investorsunderground
Visit more course:  FOREX TRADING COURSE
Some FX course: Bill Williams Eduard Altmann SMB Simpler Trading Van Tharp Atlas Api Training Trading Template Sunil Mangwani Sunil Mangwani Frank Paul . Also  Market Delta Tradingacademy Simplertrading Urbanforex. Also  Candlechartscom Dan Sheridan Pipsociety  Atlas Api Training TopTradeTools Todd Mitchell Jerry Singh OpenTrader Alexandertrading Daytradingzones . wyckoffanalytics Simplertrading
Visit more course:   FINANCIAL DEVELOPMENT
The same course:  M.Rusydi  Marc Yor Rene M.Stulz Robert Cinnamon Srdjan Stojanovic Stephen G.Ryan Steve Dalton . Also  Sumru Altug Suresh Sundaresan Thomas Fitch Tom Taulli Lidiya K Tom Taulli Peter Dunkart. Also Jo Dunning Brendon Burchard Bob Bly Alex Becker Alan Weiss Talmadge Harper
Please contact email: [email protected] If you have any question.
Course Features
Lectures

0

Quizzes

0

Duration

50 hours

Skill level

All levels

Language

English

Students

66

Assessments

Yes